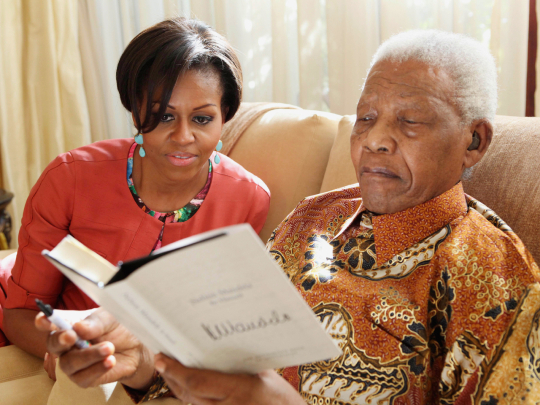 When I logged into Twitter and saw that Nelson Mandela had bubbled to the top of today's topic trends, I worried that something bad had happened. Sighing audibly, I fearfully opened a Google window to see what mournful South Africa news awaited.  I was excited to learn that quite the opposite was true — the world was celebrating because Grandfather Mandela turned 93 today!
In fact, today is Nelson Mandela International Day — established 2 years ago by the United Nations — to honor the African leader through acts of community service.  So many of our leaders and heroes are honored in death. How heartwarming it must be for Mandela see his compatriots celebrate his life through action.  In honor of the man who symbolizes the death of apartheid, the reclamation of pride, and the rebirth of a nation, I want to share 3 great videos with you:
Hugh Masekela's 1987 hit single "Nelson Mandela – Bring Him Back Home" which became an anthem for the movement to free the still imprisoned hero. I so love Hugh Masekela and this is one of my favorites from his repertoire.
The Biography Channel's 6-Minute Biopic on Mandela
Michelle Obama's Thoughts After Meeting Mandela