15 Trips We'd Take Just To See A Building
I admit it. I am a sucker for good packaging and compelling experiences. This means, among other things, that I love design.  Any type of design, really, but my travels have taught me that I draw inspiration from great architecture. My sister and I got to talking and here's our "Top 15" list of places we'd go (or have gone) just to see a building or structure.
THE CLASSICS
#1
Eiffel Tower
Paris, France
We've both been here and ridden to the top — and we'd go back and do it again.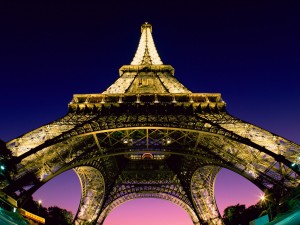 #2
Parthenon
Athens, Greece
I've seen the Parthenon from every angle except the one that matters — inside. It's gorgeous, especially when lit at night and viewed from the Plaka, the neighborhood at its base. Not sure why I didn't go to the top of the Acropolis and walk through the Parthenon. I have some unfinished business in Athens, it seems.
#3
The Colosseum
Rome, Italy
My first metro train ride in Rome was to the Colosseum station. When I rode the escalator up to ground level and walked outdoors, I was in total complete awe — a sense that never left me during the 18 hours that I spent in the "Eternal City."  Ancient ruins mingling with everyday modern life.   I didn't have the opportunity to tour the inside, so this architectural beauty remains on the bucket list.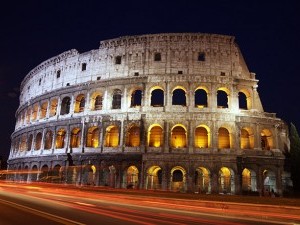 #4
La Sagrada Familia
Barcelona, Spain
This is Gaudi at his best.  His architectural plans were so ambitious that architects and engineers have been continually building on it for 130 years.  They estimate that it will be finished in the first third of the 21st century.  We've seen it, but when it's done, we are going back to see the masterpiece in its entirety.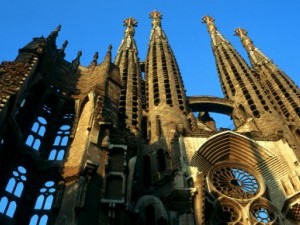 FANTASIES BROUGHT TO LIFE
#5
St Basil's Cathedral
Red Square
Moscow, Russia
I mean, seriously, who wouldn't want to go inside a church that looks like candy.
#6
Neuschwanstein Castle
Southwest Bavaria, Germany
This building was the inspiration for the infamous castles of Disney World/Land. Can't you just see Sleeping Beauty and other fairy tale princesses roaming its majestic halls?
#7
Taj Mahal
Agra, India
Taj Mahal — the  finest example of the Mughal architectural style — was built by emporer Shah Jahan as a tribute to his third wife, Mumtaz Mahal after her death. It's essentially a mausoleum but the building's sheer size and the unbelievably ornate detail it contains, speak volumes about the depth of Shah Jahan's love.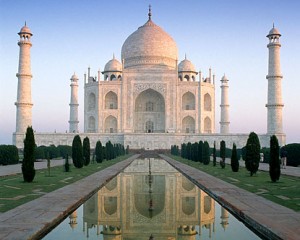 BRILLIANT FEATS OF CONSTRUCTION
#8
Pyramids
Giza, Egypt 
#9
Petra
Jordan
A city carved into rock? Need we say anything more?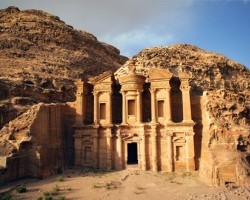 #10
Burj Khalifa
Dubai, UAE
Tallest man-made structure in the world and such a display of extreme extravagance!
#11
Macchu, Picchu
near Cusco, Peru
This 600 year old estate was built nearly 8,000 feet up into the Andes mountains. Without written records to tell us their motivation, the Incas have left us to speculate how and why they built this city in such a dramatic landscape. Despite the rigorous trek to get there, we think it's worth the effort.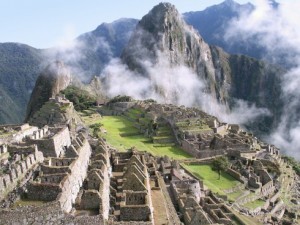 INTERESTING & MYSTERIOUS
#12
Stonehenge
near Amesbury, UK

Archaeologists believe the monument was built anywhere between 3000 BC and 2000 BC. There's such mystery about its construction that we want to see it first hand.
#13
Easter Island
This Polynesian island considered a territory of Chile is sprinkled with nearly 900 giant stone heads and torsos. Scientists are still trying to understand why — and more interestingly how — the ancient Polynesians moved the 30-foot statues, each weighing in at 80+ tons.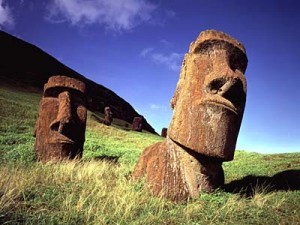 #14
Pompeii, Italy
Mt. Vesuvius erupted in AD79 burying the neighboring city of Pompeii under 20 feet of ash.  1700 years later, the town was accidentally rediscovered and ongoing excavations for the past 230+ years have revealed that the eruption preserved a day of Roman life in intricate detail — people, animals, food, homes all frozen in time.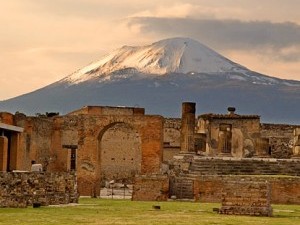 #15
Ankgor Wat
Angkor,Cambodia
This buddhist temple in northwest Cambodia dates back to the 12th century. With its beehive-like appendages, Angkor Wat is considered a masterpiece of Khmer architecture.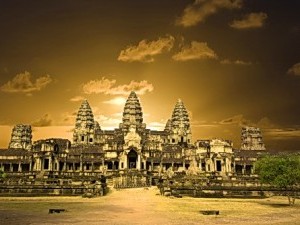 So, what's on your list?