Passport Party Project – Miami
When their parents dropped them off at the Casa Moderna Hotel in Miami last Sunday morning, it was clear that the 10 teens and tweens from Honey Shine — Tracy Wilson Mourning's mentoring program for girls — were itching to learn exactly what happens at a passport party. Thanks to the passion of lifestyle blogger Tracey Friley who founded the Passport Party Project, the day was a special experience for everyone involved. And, the best part of it all? When the festivities ended, these budding travelistas received everything they'd need to send off for their very first passports.
It Starts With A Vision
After a brief introduction, the girls jumped right into the first activity with a single purpose in mind– discover their inner wanderlust and channel it in the form of suitcase-shaped vision boards.  Enticed by international destinations like India, London, Jamaica and Brazil, and armed with travel-themed magazines, stickers and art supplies, the 10 chicas spent the morning dreaming in glitter-filled glory.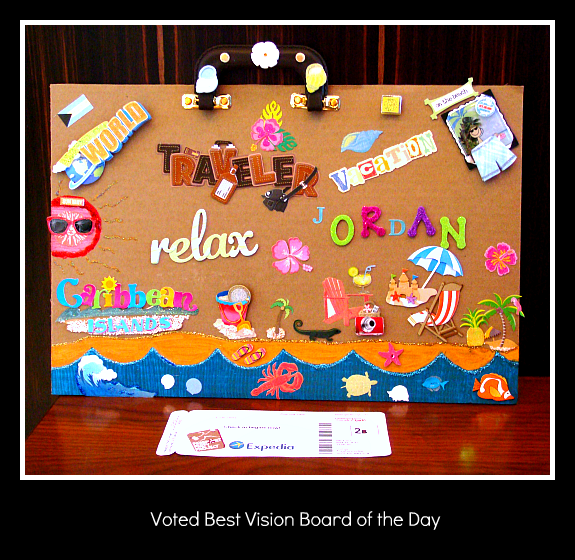 Strike A Pose
In between vision boards, playful contests and catered lunch, our travel divas spent a fair amount of time posing for the cameras.  After all, you can't apply for a passport without a photo.  And, with feather boas, sarongs, beaded necklaces and Carnival masks in the vicinity, who would turn down a few spins through the Passport Party Project photo booth — even BrownGirlsFly couldn't resist.  (Yes, I AM proudly rocking that butterfly mask below.)
The Greatest Gift of All
Throughout the day, the girls were rewarded with great gifts.  The winner of the best vision board received a cute hot-pink suitcase from eBags.  As a volunteer, I even received a set of great eBags packing cubes, while some of the other girls won books, travel journals and soapstone art from Haiti.
But, as the afternoon drew to a close, a few girls still didn't quite grasp that the big prize of the day was still outstanding.  When Tracey passed out the envelopes filled with the passport application form, photos and a money order from Expedia covering the application fees —  the girls were beyond excited.  A visit with their parents to a passport office (or post office) and a few weeks later their key to the world will arrive.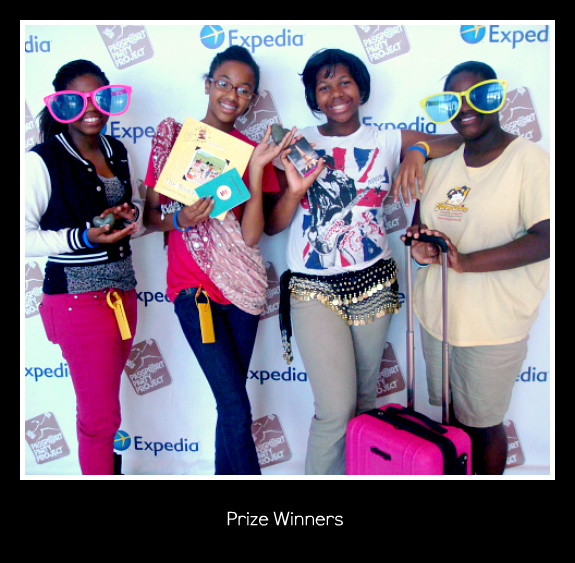 Dream Big Dreams!
A project like this — women that travel helping to inspire the next generation of women that travel — is right up our BrownGirlsFly alley. We expected to enjoy the experience, but I don't think we anticipated how much we'd love connecting with the girls.
Watching their travel dreams emerge and take flight that afternoon reminded us of our own travel beginnings and to be grateful for the opportunities we had to travel at a young age. It also reminded us that early exposure to the possibilities of the world, encouragement to pursue your dreams and learning from those who've gone the path before you — is often times the "perfect storm" for success. We are honored to have played a small role in that process for these young ladies in Miami, and we'll be cheering for the Passport Party Project during the remaining 11 months, as Tracey and Expedia make their way to seven more cities.
To our new Miami friends and the other 90 girls who we've not yet met, we say … With big hugs and lots of BrownGirlsFly love,  we welcome each of you into the travelista fold.  Be sure to dream big dreams and pursue them relentlessly!  We can't wait to see you again — with passports in hand, a culturally-infused perspective on the world, and an arsenal of travel stories to share.  And, never forget ….
Every great dream begins with a dreamer … you have within you the strength, the patience, and the passion to reach for the stars, to change the world.
–Harriet Tubman
——————————————
For more information, check out the Passport Party Project website or follow the Twitter hashtag #PassportPartyProject. 
You can also connect with Passport Party Project founder Tracey Friley or any of her Miami event co-hosts on their blogs, Twitter and their other social networking homes.