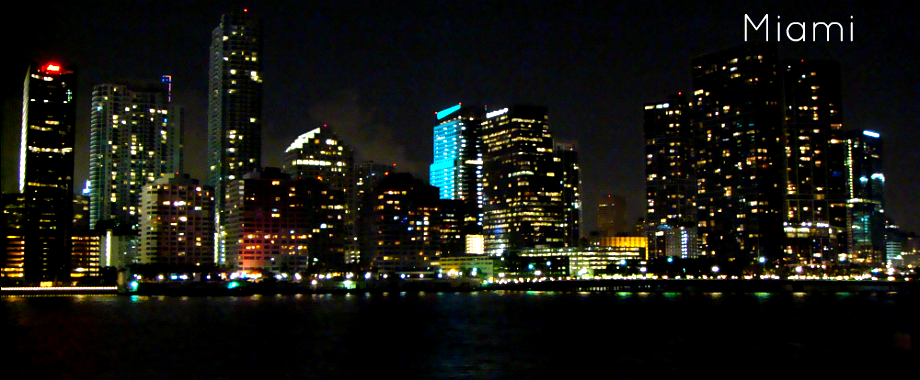 People To Know, Places To Go: Miami
Each time Crys and I travel, we try to find hidden gems, unique experiences and interesting people — a penchant we picked up from our father years ago.  During our recent trip to Miami for Hispanicize'12, we decided it was time to finally start sharing some of our finds. This is the first in our new "People To Know, Places To Go" destination series.
People To Know
Executive Chef Kenneth Williams
(Amuse Restaurant, Casa Moderna Hotel, downtown Miami)
Our friend and fellow travelista, Tracey Friley (aka 
OneBrownGirl
), was in town to speak at the
Hispanicize
conference as well as to throw the 
Miami Passport Party Project
 event at the 
Casa Moderna Hotel
.  As part of the week's festivities, Tracey — who's into experiences as much as we are — connected with the Casa Moderna team and hosted an exquisite private tasting at
Amuse
, the boutique hotel's recently re-envisioned restaurant.
After we indulged in a little travel-happy chatter and some ridiculously tasty cocktails (virgin mojitos for me), Executive Chef Kenneth Williams popped out of the kitchen to introduce himself and present the evening's first course.  How delighted we were to see someone who looks like us at the helm in the Amuse kitchen.
As the evening progressed, we learned that Chef Kenneth hails from Jamaica by way of London. After his initial culinary training in the UK and continued education in New York City, he moved to Florida where he's delighted palates in some of Miami's most refined hot spots, including the Delano on South Beach and the Fisher Island Club. (Yes, the same celebrity-covered 
Fisher Island
 known for having the highest per capita income in the United States). With such an impressive resume, the bar was set high, but Chef Kenneth did not disappoint.
Being a vegetarian with a tomato allergy means I can sometimes become a bit of a "problem child" when dining out in group settings, especially when the meal is the kind of masterful orchestration found at a private chef's tasting.  Needless to say, I was a bit worried about how the evening would play out.  But, within seconds of introducing himself, Chef Kenneth acknowledged my dietary needs and reassured me that I'd have a great evening.  A sigh of relief and one look at the creative display in front of us, and I happily plunged into the culinary adventure.
Chef Kenneth's recipes were creative, the ingredients were fresh, and the dishes were nicely plated.  We've said it before and we'll say it again — we're suckers for good packaging.  I guess that holds true for our inner foodies as well.  Dishes that are beautifully presented always take the dining experience to another level.From the oohs and ahhs emanating from our table, it was clear that everyone enjoyed the meal, and, despite my food limitations, I did not feel like I missed a beat.  Much of what Chef Kenneth prepared was vegetarian friendly, and for dishes that weren't, he prepared a comparable alternative that matched in texture, appearance and overall experience. I mean, who needs scallops when there's jicama? Most of the meal was a preview of dishes from the new Amuse menu that Chef Kenneth launched a few days later.  So, that means, you can try it for yourself.
It's clear that Chef Kenneth Williams is full of creative passion — and he's pretty humble about it. We're proud to see the work he's doing at Amuse and we're excited to see where his culinary career takes him.  He is definitely a BrownGirlsFly person to know in Miami.  (Thanks Tracey and Casa Moderna for the introduction!)
Places To Go
South Beach, Biscayne Bay, Anywhere There's Water
I know this seems horribly obvious, but we cannot emphasize how fabulous life on the water is in Miami. Growing up as East Coast babies who often flocked to the South Atlantic, we spent so much time in, on and around the ocean that you might accuse us of being mermaids. So, we know that we are absolutely biased when it comes to the water, but this trip reminded us how much we love the Miami aquatic scene.
April is a bit early to expect a hot day at the beach. Despite the nip in the air, we couldn't resist a quick dip in the chilly waters and a peaceful nap on the comforting sand.  But, it was our night life on the water that made the difference this time.  For the bloggers attending Hispanicize'12, McDonalds chartered the Venetian Lady, which ventured out onto Biscayne Bay for an evening of fab-ness. Let's just say Mickey-D's knows how to throw a good party.  The skyline view was stunning, the entertainment was perfect and the yacht's interiors were classy — down to the design of the bathrooms (which are usually the worst part of being on a boat).
So, how can you re-create this evening for yourself?  Well, that's not difficult in Miami. Boats are everywhere.  The Venetian Lady does host dinner cruises. While the yacht will be the same fabness that we experienced, the format will be different — more like a restaurant on water.  If you're looking for something more personal or for a more relaxed vibe, try a sunset sail on a Catamaran.  A quick web search will yield some great options around town — most of which are in the $50 to $100 range.  And, if you keep an eye on Miami Groupon, you might do even better on the pricing.  No matter what your budget, be sure to set aside a bit for one romantic, relaxing evening on the water.