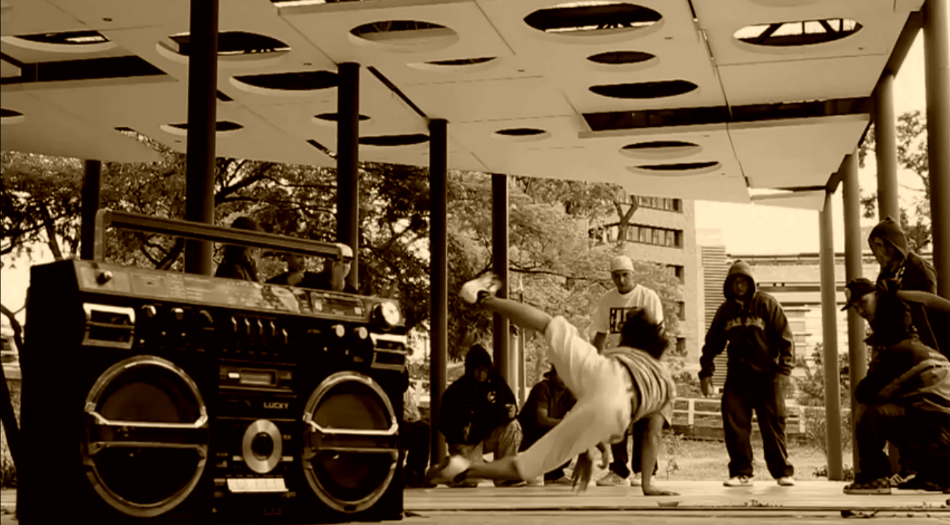 Hip Hop: Giving Voice To The World's Voiceless
As a child of the 80's and 90's, my ear for hip-hop is tuned to the rap classics of my youth. Think LL Cool J, Run DMC, Doug E Fresh, Slick Rick, Monie Love, Salt-N-Pepa and Queen Latifah. No hate against those that have followed, but I just don't dig their rhymes the same way as I do the oldies. So why, you ask, am I focusing an entire BrownGirlsFly post on Hip-Hop?  Cultural curiosity, of course.  😉
In 2003 at the Chicago Latino Film Festival, I saw "Resistencia: Hip Hop in Columbia," a documentary highlighting the role of rap music in Colombia.  Many Colombian locals — amid corrupt politics, guerilla action, widespread poverty, the war on drugs and their country's complicated relationship with the United States — are struggling to find their voice in a cultural context that renders them voiceless. I was simultaneously educated about the socio-political landscape, impressed by the lyricists' ability to spit fast-flowing rhymes in Español, and moved by their fight to survive. Though it's been almost 10 years since I saw "Resistencia," I've never forgotten the documentary. So, when I recently stumbled on a few Italian hip-hop artists, I became very curious about how this art form has evolved in urban cultures around the world.
Here are 10 artists from locales where you might not expect to find Hip-Hop.  Some of the songs give voice to voiceless communities and others just celebrate life from the artist's cultural perspective — but all of them have a great sound and we think they're worth a listen.

"MOMENTOS" (2011)
Artist: Sociedad FB7
Country: Colombia
Language: Spanish
[youtube width="600″ height="375″]http://www.youtube.com/watch?v=C99DastyWnY[/youtube]
If you're interested in more Colombian hip-hop, here a few other sources to check out.
Por Razones de Estado – Female rap duo who drop lyrics as an act of rebellion against the socio-political and economic issues affecting Colombia.
Zona Marginal – A socially-conscious group who chose their name because they represent a community that has been forgotten and marginalized by the state.
Frekensia Kolombiana is another documentary that chronicles the role of hip-hop in Colombian society.
"CHAOS" (2010)
Artist: MC Jin
Country:  Hong Kong
Language: Cantonese
Even though the opening scenes were filmed in NYC, this is a conscious rap song with a retro beat describing Hong Kong's society.
[youtube width="600″ height="375″]http://www.youtube.com/watch?v=vgSlAJnsfz8?fs=1[/youtube]
"CYA" (2011)
Artist: NZ / Street Man
Country: Mongolia
Language: Mongolian
Traditional Mongolian elements infused with hip hop, resulting in a very distinct sound.
[youtube width="600″ height="375″]http://www.youtube.com/watch?v=l9JsXNiPD-s?fs=1[/youtube]
"PREP TRACK" (2012)
Artist: Xtatic
Country: Kenya
Language: English
[youtube width="600″ height="375″]www.youtube.com/watch?v=pWdnOfvOrXY?fs=1[/youtube]
"VOKRUG SHUM / NOISE AROUND US" (2009)
Artist: Kasta
Country: Russia
Language: Russian
Kasta interrupts a dinner party with criticisms of the Russian bourgeois life.
[youtube width="600″ height="375″]www.youtube.com/watch?v=8zHjanBzZt8?fs=1[/youtube]
"SEXY" (2007)
Artist: KhmerRapBoiz Featuring Thearit
Country: Cambodia
Language: Khmer
Hip hop beats layered over elements of native Cambodian music.
[youtube width="600″ height="375″]www.youtube.com/watch?v=/NLnxP14CEb8?fs=1[/youtube]
"NINI DHAMBI KWA MWENYE DHIKI" (2006)
Artist:  X Plastaz
Country:  Tanazia
Language(s): Kiswahili and Maa (kiMaasai)
X Plastaz, Tanzania's most well known hip hop crew, often merges Swahili rap and traditional Maasai music. This song 'Nini dhambi kwa mwenye dhiki?' is about poverty. "When we die, on the day of judgment, give us the chance to regret, because we know that we act evil, we use every possible method: magic, crime, anything so that we can get food and clothing What's the crime of the poor, what's wrong, what is right."
[youtube width="600″ height="375″]www.youtube.com/watch?v=/UiIa2i29PZ4?fs=1[/youtube]
"HIP HOP" (2012)
Artist: Pedro Mo
Country: Peru
Language: Spanish
Pedro Mo — one of Lima's most famous underground artists — drops rhymes about hip hop and what motivates him to write.  My favorite part? Around 1:35 when he goes rapid-fire for about 15 seconds.  It's cool that the video has the words (in Spanish of course) flying on screen so you can follow along.
[youtube width="600″ height="375″]www.youtube.com/watch?v=/VInJqvuFrHE?fs=1[/youtube]
"PRIMO ROUND" (2011)
Artist: Baby K
Country: Italy
Language: Italian
This song is a bit commercial but it's pretty catchy.  I must admit, though. Whenever I watch this video, 3 things come to mind:  a little "Around The Way Girl" with a hint of Italian "hooch" plus a splash of "Mama Said Knock You Out."  LOL. Hey, but, who can hate on a girl touting her skills and repping her culture? Check it.
[youtube width="600″ height="375″]www.youtube.com/watch?v=/omFaer9Ydos?fs=1[/youtube]
"BLUE"   (2011)
Artist: Zeebra featuring Ai
Country: Japan
Language:  Japanese with bits of English
Zeebra is considered the most famous OG in the Japanese rap game and Ai is a popular pop singer and their song is a commentary on the evils of war, the earth, and love for humanity ….Looks like Sony Music has claimed copyright infrigement and this video has disappeared from Youtube and other video sites accessible from the states. The places they've officially posted the video won't play here in the US. But, in case that ever changes, I'll leave this song on the list. This song is pretty catchy and worth the listen.


In every corner of the globe, it seems hip-hop is finding its home among the local musical genres, merging with indigenous sounds and reflecting local experiences and social challenges. Its appeal is universal as a mechanism for cultural storytelling and giving voice to the voiceless.
Stay Fly!
-Chelle