Ode To International Friendship
When I stumbled on this picture today, it reminded me of my friend Nic and what I consider to be my most international friendship. In 2 weeks, I'm headed to the UK and Scandanavia and I'll get to see her. (Can't wait!)  Since we've hung out in 8 countries on 3 continents,  I thought I'd share our story.
As designers and education geeks, Nic and I both have a penchant for finding interesting learning opportunities. It was in this context that we met at a 2004 intensive summer school program in Split, Croatia. Never did I imagine that those sporadic lunchtime chats between this American girl living in Chicago and that German girl living in Hong Kong would turn into such a great friendship.
Summer 2004: Croatia
We met in Split, Croatia during an intensive design summer school program — two weeks of interviewing and observing locals and designing creative approaches to Sustainable Tourism for this Adriatic coast town.
Favorite experience: Dancing the night away in the private residence of Croatia's former dictator Tito.
Summer 2005: Canada
We volunteered to work behind-the-scenes at a conference in Montreal, Canada and to share our experiences in Croatia.
Favorite experience:  Making my first presentation at an industry conference and hopping from venue to venue at the Montreal Jazz Festival — the best display of world fusion music I've seen to date.
Summer 2005: Romania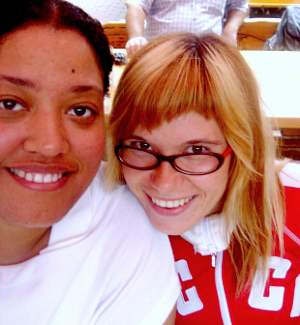 We returned to the same summer intensive program, but this time as group leaders in Timisoara, Romania.
Favorite experience: Hiking through the Carpathian Mountains and riding the ski lift through the fog covered tree tops back to the bottom. 
Summer 2006: USA
We volunteered at another design conference in Denver, Colorado.  Yes, we're conference hogs!
Favorite experience: We had a couple free hours during the conference. So, we hopped in the car and drove to the highest point in Rocky Mountain National Park. The view was great, that is until I got altitude sick. LOL!
Fall 2006: Portugal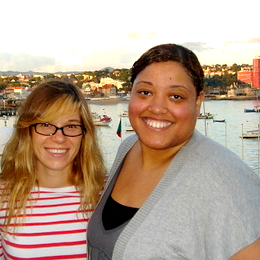 Off to another conference in Lisbon, Portugal to present a paper we wrote with Adler, a friend and colleague that we met in Romania. The great thing is Adler is from Portugal so we got a personal introduction to the region.
Favorite experiences:  Spending the weekend in the village where Adler grew up, roaming the streets and beaches of Cascais, and hiking up to the palace in Sintra.
Fall 2007: Hong Kong
I flew to Hong Kong to present at another conference. It was a week after my father passed away and I needed some time away from my everyday life. She was a comforting ear while I licked my wounds and a guiding hand while I got oriented to that "lost in translation" experience on my first trip to Asia.
Favorite experiences:  Spending the night on Lamma Island, riding the bus to the highest point in Hong Kong and watching the skyline, and dining in places only a local would dare eat.
Fall 2008: United Kingdom
I scored great tickets to the UK — less than $250 RT — so I popped over to Oxford, UK for a whirlwind weekend with Nic.
Favorite experience:  Just doing something as crazy as flying all the way to the UK for 36 hours and returning in time for work on Monday. With such a crazy weekend, who needs anything more than time for tea and talking and to roam the grounds of the famed Oxford campus?
Winter 2009: USA
So Nic and her hubby-to-be be came to San Francisco for … wait for it … a conference. LOL!  It's my favorite region of the US. So, I was doubly happy to book a ticket out to Cali.  We rendezvoused south of San Jose and continued our drive to my beloved Monterey.   (Thanks Nic for reminding me to include this one on the list!)
Favorite experience:  Driving down Pacific Coast Highway aka Highway 1, and visiting my favorite aquarium (Monterey), hiking through my favorite natural scenery (Point Lobos State Nature Reserve) and just hanging out with two of my favorite people.  
Spring 2009: Germany
Remember Adler, our friend from Lisbon that I mentioned above? You'll never guess!  He visited Nic in Hong Kong and fell in love with her bestie — another German girl living there.  Well, the wedding was in Germany Memorial Day weekend.  I found a cheap last minute ticket — $500RT from Chicago to Berlin.   I landed 15 minutes before Nic and her beau. We rented a Mercedes (I love rental car options in Germany!) and roadtripped it to the countryside for a fabulous wedding weekend.
Favorite experience:  Driving 100+ MPH on the Autobahn through fields of  massive windmills, attending a wedding that was conducted in 3 different languages, and dancing at the reception to ABBA songs with people from 6 countries on 3 continents. 
Fall 2009: United Kingdom
On my way to Zimbabwe, my flight was re-routed and I had a 12-hour layover in London. We met for dinner and great conversation. Then, I hopped the train back to Heathrow and headed off to Africa.
Favorite experience:  Just appreciating that I had a friend willing to commute an hour and a half just to come have dinner with me. 
And, THAT was the last time I saw her.  We were on a roll for 5 years straight and now  I can't believe that almost 3 years have passed since our last visit. Life has definitely changed for us both — I switched jobs so my international travels have slowed significantly and she has since gotten married and had a baby.  Change is inevitable as they say, but it's not the end of things. With all that we've shared over the years, Nic will always be a treasured friend.
I'm sure it's obvious by now but …. I'm proud to have a friendship that has grown across 3 continents. It embodies everything I love about travel and culture.  And, I'm SUPER excited for this upcoming trip to the UK so that I can catch up with my euro-bestie, her husband, and her little one who turns 1 while I'm there! I also have another agenda for the trip — start generating ideas to help revive our annual treks to new corners of the world!
Do you have a friend who lives abroad?  If so, when's the last time you saw her or him?  I think it's time to plan a trip — or at least a Skype chat.  Let's get to it and keep those international friendships going!  You don't yet have an international friendship?  No worries, step 1 is easy. Next time you travel, just make an authentic attempt to connect with someone and keep in touch in the years that follow.  And, don't forget there are plenty of websites out there for you to find a penpal.
Stay Fly!
-Chelle