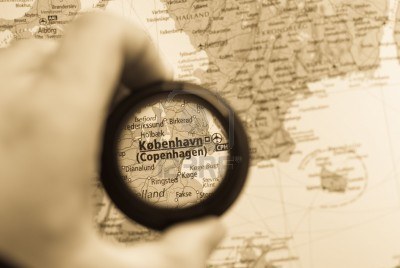 Travel Tip: Making The Best Of A Long Layover
One of our friends in Facebook-land wrote this week asking a few questions about how best to take advantage of long layovers.  Since I'm currently planning my 8-hour layover in Copenhagen, her timing is impeccable. So, I thought I'd share our answers with you too.
Question: When you have a layover over 5 or even 10 hours do they still let you leave the airport when you're overseas? I'm contemplating a short trip in-between my bigger trip.
Yes!  In most layover situations, you can leave the airport — as long as you're back at the gate in time for boarding. Playing the layover game is actually one of my favorite travel activities, partly because I detest sitting at the gate for hours on end and partly because I'm a sucker for cultural experiences. I mean, who wouldn't prefer to eat local cuisine instead of airport food court meals?  So far, I've successfully laid over in Vienna, Frankfurt, Istanbul. And, I can't wait to explore Copenhagen in a few weeks.
While layovers aren't always the ideal way to experience a country and its culture, they're a fabulous way to get an appetizer-sized sampling of a locale — especially for places you never considered planning a whole vacation around.  But, before you finalize your flights, there are a handful of things that you'll need to consider when planning a layover excursion.  Here are our favorite tips/strategies for making the most out of your time on the ground.
Tips For Planning Your Next Layover
Make sure you have at least 4 hours on the ground before you consider doing a sightseeing layover.  Considering you'll need time to get to and from the airport and through its long lines, anything shorter would be risky.  Here's an example of how the four hour layover would play out.  The longer the layover, the more time you have in your sightseeing window.
30min:  deplane and get through customs
30min:  travel to the city
90min:  sightsee
30min:  travel back to the airport
60min:  get through security/customs and back to your gate
To make sure a layover is feasible, first you'll need to do a little research:
How far is the airport from the city center (or wherever you're planning to go)?
Is there a direct train/bus from the airport to city center? If so, how long will it take?
How frequently do those trains/buses run?
If you need a backup plan, about how much would a taxi cost and how long would it take?
Do you need a Visa to leave the airport?  This could increase cost and time before you leave the airport
While we normally advocate a carry-on baggage only, this is one exception to the rule. When you have limited time, you won't want to be worrying about what to do with your bags. In fact, lighten your carry-on load as much as possible so you can move more quickly through the airport and so you're less encumbered when you're exploring the layover locale. 
Be sure you verify with the airline what the luggage process will be at your layover city. Will they automatically transfer your checked baggage all the way through to your final destination? Or, as is often the case with transfers in US airports, will you have to pick up your bags and manually re-check them into your next flight? This could eat up valuable time on the ground. So, you'll want to try to find out the answer in advance so you can plan your time accordingly.
If you have extra time on the ground and you happen to have too much carryon luggage to comfortably cart around for the day, you can always look for lockers or a "left baggage" facility in your layover city. Many European airports and large train stations have them.
When you land, get off plane, through customs and out of the airport as soon as possible.
Pick a seat as close to the front of the plane as you can.
Make sure when you land you're packed and ready to walk off.
Walk briskly and get as close to the front of the customs line as you can.
Don't cut it too close.  Plan extra time to get back to the airport (with extra buffer for getting around a city you're not familiar with — missed bus or wrong train or slow cab) plus a bit more to get through customs and security. 
Need A Little More Layover Inspiration?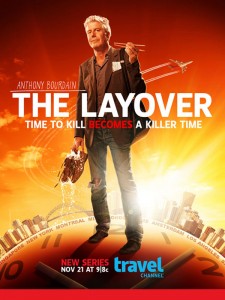 In a couple weeks, I'll be sharing the details of my day-trip to Copenhagen.  But, if you're looking for more ideas, check out Anthony Bourdain's The Layover on The Travel Channel. The second season airs on November 19.
The entire premise is for him to layover in a new locale and uncover culinary delights and an interesting aspect of the local culture.  With 24-48 hours to explore, I think he cheats a little.  But, there's no doubt that Anthony or The Travel Channel understand the adrenaline rush and excitement of jumping off a plane and absorbing everything you can, before heading back to the airport.
Watch a few episodes, reference the tips we shared above and start planning your next layover adventure.
Stay Fly!
-Chelle