Interview With An Expat In Italy: Dr Tamara Pizzoli
We love books that expose children to the world at an early age. So, when we discovered the international alphabet book M is for Marrakech, and learned it was created by a brown girl living abroad, we had to hear the rest of the story. Dr. Tamara Pizzoli shared how she faced a life-changing moment, followed her heart to Rome and fulfilled her dreams along the way. Read this week's traveler interview and be inspired!
Dr. Tamara Pizzoli

Home Town:
Killeen,Texas
Current Town:
Rome, Italy
Occupation:
Write -- and in the words of Kanye -- do dope stuff
Frequency:
Monthly
Countries Visited:
I've lost count, really.
Fave City:
Marrakech, Morocco.
It's just so full of wonder, splendor and color.
Itching To See:
India, South Africa & Madagascar

Window or Aisle?
If it's a short trip, the aisle. But, for longer flights I prefer the window seat, so I can prop my head up and doze off.
A Girl & Her Travels
How old were you when you first got your passport?
I was around 20. My boyfriend at the time was from Ghana and he invited me to come visit for the holidays — I think it was Christmas. I remember texting everyone I knew, including him, that the plane was enormous.
What do you love most about traveling and living abroad?
I love the whimsy and the storyline of it all. I recognize it as a gift. I live in Rome, so it's incredibly visually stimulating. I love that drinking wine and indulging isn't frowned upon here. There's a definite sense of "enjoy your life" that permeates the culture. It's just a different perspective on life put into practice. Everyone I know here is either married, actively looking for love, or has a lover. Being loved and loving — that's what reigns supreme.
Texan Girl In Italy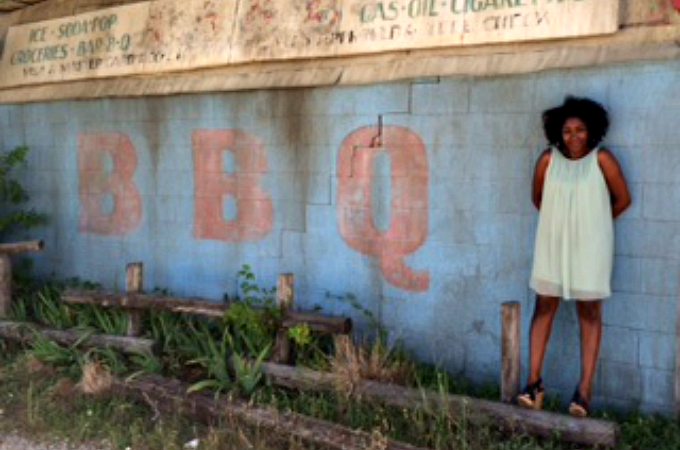 How did you end up in Italy?
So what had happened was — every good story begins like that — I was on my way to Ghana to see my then boyfriend. During a layover in New York, I decided to visit a good friend of mine who was living in Brooklyn for a couple of days. While there, I found out definitively that my guy of five years had been cheating on me at least half of the relationship. Needless to say, I never got on that plane to Ghana. So, there I was stuck in Brooklyn, in a blizzard, with only the clothes I'd packed for West Africa. It was truly pitiful. I spent the next few hours, with this friend and a few others, swearing off men. When her younger sister came home from her waitressing job and learned what happened, she said "Good. Now you can move to Rome with me." And I took her up on it! Things moved fast. When I found out about the cheating bit, it was March. I graduated with my doctorate in August, and moved to Rome sight unseen in September of 2007.
You found love in Italy not long after. Tell us more!
In November, a couple months after moving to Rome, I met a great Italian guy. I spoke absolutely no Italian and he spoke no English, but I speak Spanish so we'd communicate using what I called "Spitalian." It really didn't take long for us to understand each other well. The wedding was an impromptu decision while we were attending my sister's law school graduation in Texas. We were married for 6 years — it really was a gift. Even though the marriage didn't last, Italy stuck. My kids are little cappuccinos, hand gestures and all.
Tell us a funny lost-in-translation moment you've experienced in Italy.
When I first moved to Rome, my friend's sister and I moved to this area called Piazza Vittorio Emmanuele. The important thing to know about this area is that it's full of immigrants. So I got out of the taxi that first day in September thinking "Where are all the Italians?" It was also a bit of a sketchy area, particularly at night. When we'd try to catch a taxi to go out in the evenings, I swear everything except for taxis would stop. I really didn't put two and two together. Then someone explained that they thought we were prostitutes — Brazilian prostitutes. I was like "Just 'cause I'm black and standing on the corner doesn't mean I'm selling cake!" I realize that a lot of people won't find that story funny, but the thing is, you have to have tough skin and a bit of a twisted sense of humor to thrive in Rome. It's a much more aggressive city than its reputation lets on.
We love Italy. But we've read so much about — even experienced first hand — some of the race-related issues there. What's the real deal about being a woman of color and raising bi-racial children there?
I have to say, that as a Black woman who's lived here so many years, I find it to be a welcoming place for black women. I mean, Italian men loooooooooooooooove Black women. They do! I've never been complimented or pursued like I've been in Rome. That's my own personal experience, though. I'm sure Minister Kyenge, a politician here in Rome who's had bananas thrown at her, could give a completely different account, but I really haven't run into racism so to speak here.
What I have encountered is mostly ignorance. True ignorance. It doesn't stem from an evil, divisive place. When I first moved here, I worked at a language school and there was this elderly student named Grazia who would say ridiculously offensive things like, "If you are from Africa, why are you so pretty?" I admit that's racist. But it's also ignorant, and you can find ignorance like that everywhere. It's not unique to Rome. All in all, I really can't complain about being a brown girl in Italy. The positives definitely outweigh the negatives. Plus I think a lot of Italians, particularly ones in the South, fancy themselves to be part Black. North Africa is down the street.
As far as being a mom to bi-racial children, it's interesting. I'm not concerned for their physical safety or about them being bullied. With the recent events going on in the states that have prompted the #BlackLivesMatter movement, I'm grateful right now to live in a society where ignorance abounds but guns do not. Stupid is one thing. Armed and stupid is another. My biggest concern right now, especially since my boys are so small, is that they'll have the misunderstanding that being bi-racial is a novelty. Italians really do love children, and even though Rome is a major city in the world, it's not as diverse as one would think. I read today that only 8% of the Italian population is made up of immigrants. My children are often stopped and told how beautiful they are, how adorable they are, pinched on the cheeks, kissed, have their hair tussled. The elderly will have full on conversations with them that begin with, "Madooooooooona mia, che bel bimbo," and "Amore mio." It's important to me that they understand growing up that diversity is normal. If we were walking down the street in Brooklyn, they wouldn't get that much attention.
Doing What She Loves
Tell us about The English Schoolhouse.
Language is big business in Rome and many places don't care if you have a permesso di soggiorno (a work permit). So, when you move here as a native speaker and need a little money, teaching English is the go-to job. After working at a couple of language schools here, and reflecting on my earlier years teaching Kindergarten in the States, I realized that I love teaching English to learners of all ages and levels. It was truly the most fun I'd ever had. One day, I decided that I wanted to own a school.
In 2013, I opened The English Schoolhouse, a boutique English language school primarily for kids here in Rome. In the years since, I've expanded it into a boutique publishing house, The English Schoolhouse Publishing, through which I've launched five books. I am still educating, just in a much broader way.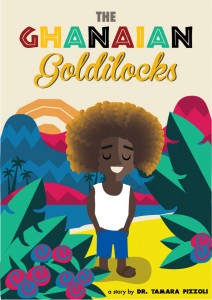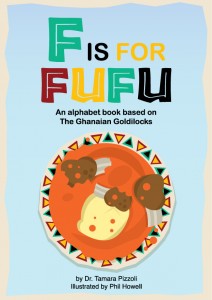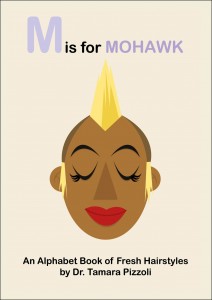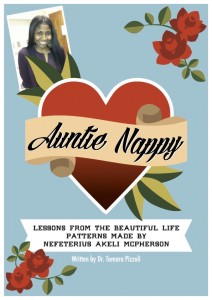 What inspired you to write the first book, Ghanaian Goldilocks?
The inspiration for my first book was my eldest son Noah. A couple years ago, we were here in Italy at his uncle's house. Noah was three at the time. He had this adorable afro and was (and is) so precocious. He was touching things in his uncle's house that he had no business touching, and tasting things he had no business tasting. So I leaned over and said,"Who do you think you are, Goldilocks?" His reaction was priceless. I mean, he was laughing so hard at the idea that he was squealing. So I thought it would be a great idea to remix the classic Goldilocks fairy tale and make the main character a brown boy. Then, I went one step further and decided he should be a West African kid, because when's the last time you read a fairy tale that featured a young African male as the main character?
"Ghanaian Goldilocks" and the follow-up alphabet book "F is for Fufu" both highlight Ghanaian life. Why Ghana?
I visited Ghana several times in the past and it left such a beautiful impression on me. I had so much great material to draw on. Really, those books are love letters to Accra and Kumasi — and my sons.

Then, you moved on to a broader cultural context in "M is for Marrakech?"
Yes. I'm fortunate to live in the center of Rome. I walk up the street and stumble upon some of the most gorgeous piazzas in existence. The Colosseum is a 15-20 minute walk away. I'm just surrounded by so much beauty and splendor all the time — so much detail. You have to keep in mind that I'm a southern girl from Killeen, Texas. Sometimes I'm just so in awe of it all and I thought all kids should know places as beautiful as this exist all over the world. So I went home and chose the locations, and my illustrator did his thing, and that was that.

What message do you want young readers and their parents to learn about the world through your books?
One of the best lessons I gleaned from the doctoral program in education was the importance of teachable moments. I hope my books lead kids down the rabbit hole to more adventures — to more knowledge and beauty and splendor and wonder and questions and tolerance and acceptance and discovery. I want my books to lead to more.
What's next for you and The English Schoolhouse?
My latest book, "M is for Mohawk" is launching this week. And, I just booked my illustrator for three more, including two follow-ups to "The Ghanaian Goldilocks." Soon, I'll be expanding into curriculum, apps, games, programming and more. Also, through my other company, Pizzoli Media, I'm working on writing and producing a scripted series about black girls living and thriving in Rome. We shoot the pilot here in Rome in March. It's all very exciting. So, where do we go from here? Onward! Upward!
A big thanks to Tamara for being so open and letting us peek into her expat life and her entrepreneurial endeavors. She makes it sound so easy. We can't wait to see where her "just do it" spirit takes her, The English Schoolhouse and Pizzoli Media. If you'd like to know more about her adventures in Italy and her books celebrating culture, check out Dr Tamara Pizzoli here: