Jetsetter Roundup: Road Trips
The summer is a great time to explore the world, one scenic byway at a time. To help inspire your next epic road trip, this month's Jetsetter Roundup is full of planning tips and wanderlust-inducing route ideas. Enjoy the ride!
Preparing For Your Road Trip
Before jumping behind the wheel, preparation is the key to a fabulous road trip experience. When Carol (Girl Gone Travel) and her family took a 2.5 week, 1500-mile journey from Seattle to Southern California, they not only had to decide what destinations they wanted to explore, but also plan the driving route, book flights, find accommodations and find the best one-way rental car. She shares some helpful planning tips, including how they budgeted for the trip. After prepping for her own family road trip, Katrina (My Mommy Flies) compiled several practical road trip rules emphasizing safety and comfort. Adelina (Pack Me To) identifies a few road trip essentials — from snacks, to games, to those easy-to-forget items — that'll ensure your extended time in the car is enjoyable. And, when the kids ask "Are we there yet?" one too many times, you'll need Kirsten's (Kids Are A Trip) boredom-abating list of road trip friendly read-aloud books. Lastly, while road-tripping across the US, Rebekah (Rebekah Esme) offers her international traveler's perspective on restaurant tipping etiquette and saving money while on the road. Whether you're traveling solo, with kids or other adults, these jetsetters' collective insights will ensure everyone in your car is prepared for the ride.
Road Tripping North America
There are so many beautiful places to explore in North America, the best of which often lie well outside city boundaries. So, the best way to experience them is usually by car. Here are some of the recent road trips our jetsetters have taken or recommend across the continent. Betsy (Passing Thru) shared her top 5 road trips through the US and Canada, featuring places like Hawaii, Alaska and Alberta. And, I recently compiled my own favorite summer road trip routes through coastal California, coastal Maine and the Florida Keys and regions in between. It seems Penny (Adventures of a Carry-on) shares my love for California's Pacific Highway-1. In her article, she outlines the route, shares important tips to get you through the remotest stretch of the trip, and highlights great places to stop along the way.
Down South, Ana (Ana Travels) chronicles her adventure through several small towns in West Texas while Charles (McCool Travel) takes in the laid back Alabama lifestyle and Nadeen (The Sophisticated Life) picks her favorite destinations driving distance from Atlanta. Further north, Holly (Holly Dayz) spent a weekend jaunting through the Delaware-Maryland-Virgina (DMV) area, Charles (McCool Travel) explored the unpaved roads of Loudon County just outside Washington DC, and Penny (Adventures of a Carry-on) road tripped through New York's Dutchess County known for its wineries.
In Canada, Helen (Not Without My Passport) crossed Vancouver Island from Nanaimo to Tofino. And, Aloise (Take Me To The World) explains why Canada is a great road trip destination and what there is to do in Saskatoon, even when it's cold outside.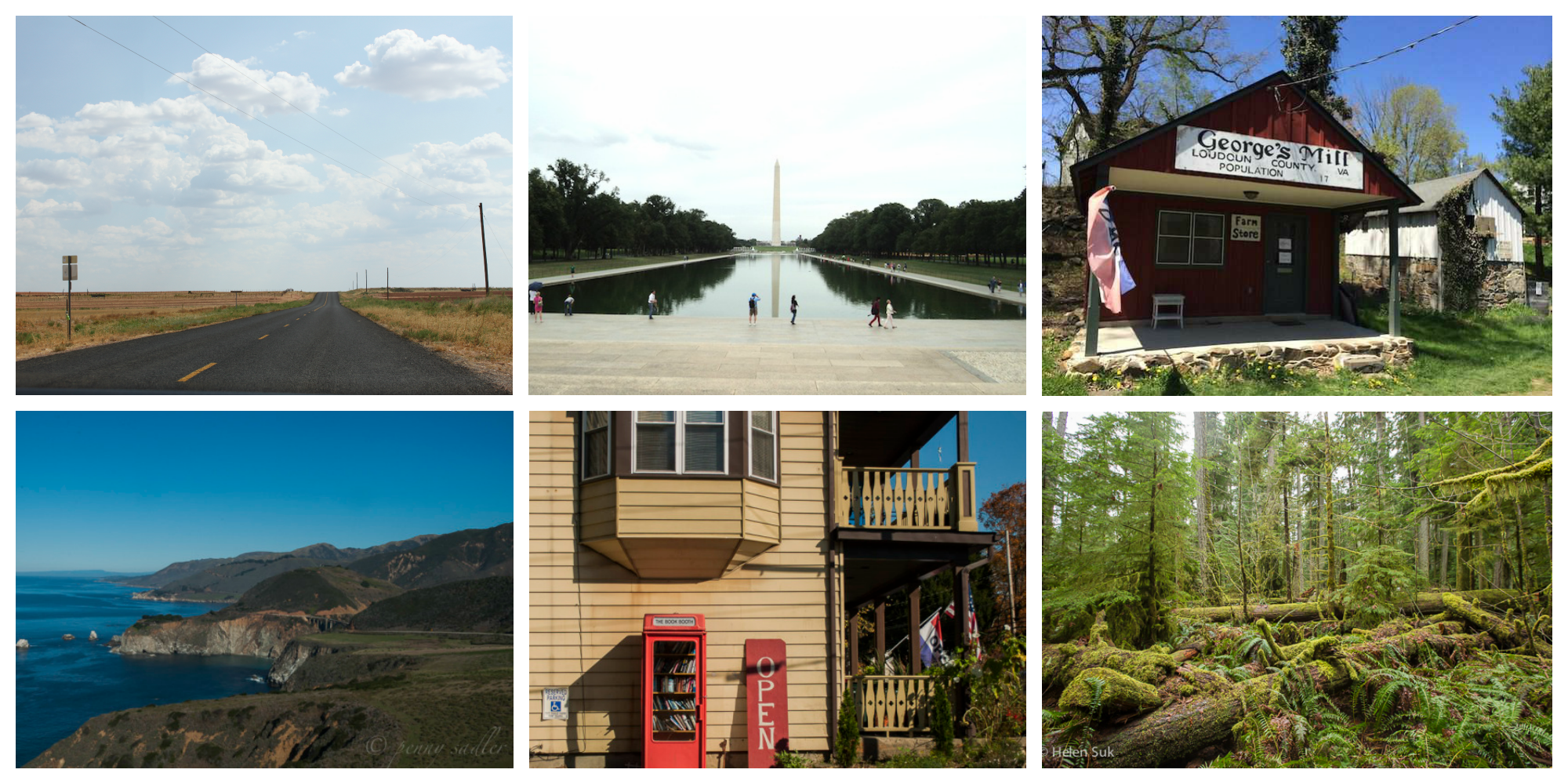 European Road Trips
While in Iceland, Jennifer (Made All The Difference) circled the island nation, checking items off her bucket list along the way, from whale watching to swimming in the Blue Lagoon, to scuba diving inside the Silfra Fissure, and hiking a glacier. She also drove the Golden Circle, a 190-mile loop featuring key landmarks like Þingvellir National Park and Gullfoss Waterfall. It was winter when she took her trip, but the route she took would work just as well during warmer months. In mainland Europe, Laura and Lance (Travel Addicts) drove the Romantic Road, a 250-mile route through central Germany connecting more than two dozen of the region's small medieval towns. The couple also explored Ireland's Causeway Coastal Route where they saw abandoned castles, visited a whiskey distillery and experienced what Laura describes as the "other-worldly geology of the Giant's Causeway." Like Laura and Lance, Carole (Travels with Carole) also journeyed through Ireland, from Shannon to Dublin, and experiencing lots of beauty in between. Further east, Brock and Tanj (A Travelogue By Brock and Tanj) rented a car in Budapest (Hungary) and road tripped through the Balkans for 18 days, from Belgrade to Dubrovnik to Ljubljana and many places in between.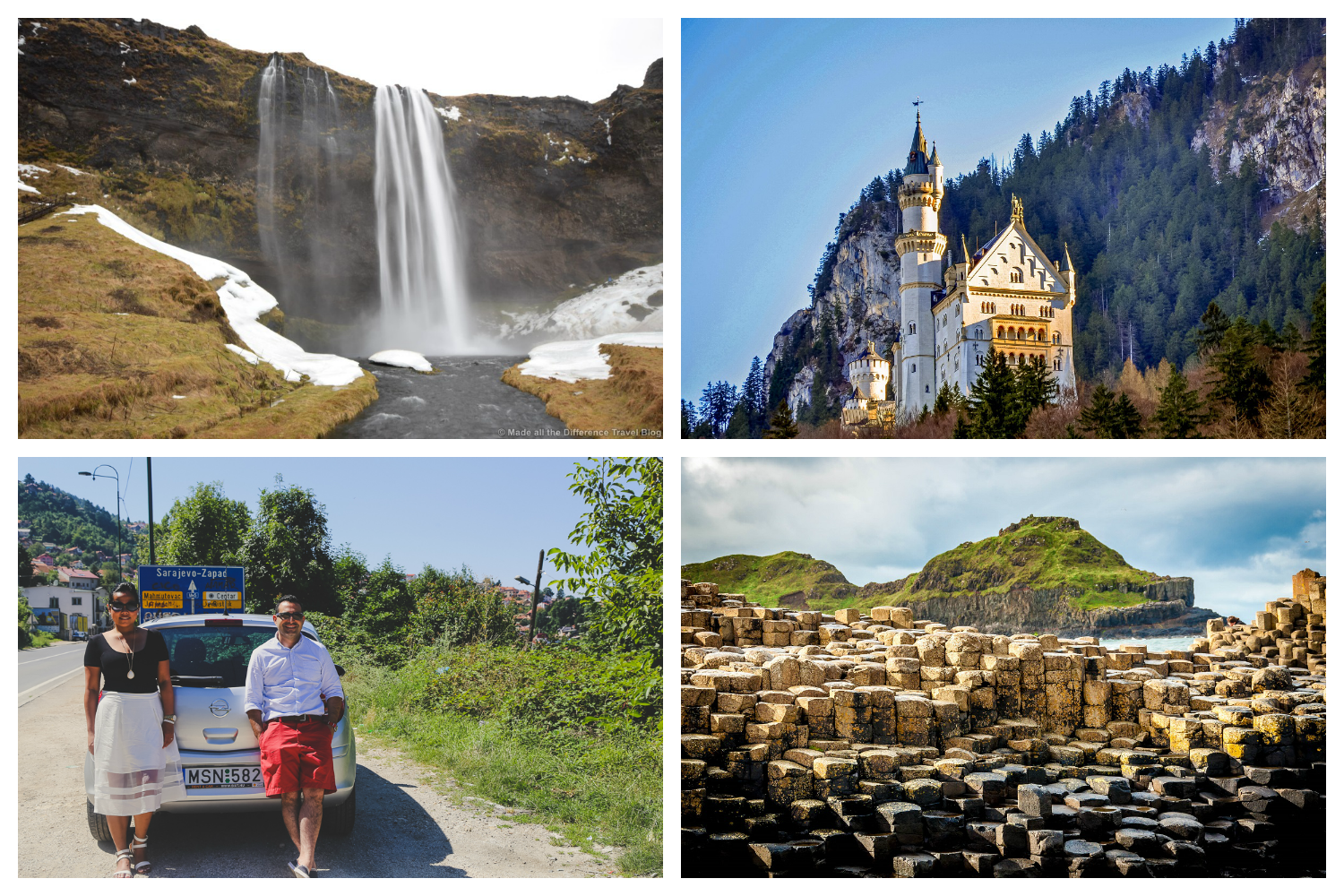 Road Tripping In Africa
Laura and Lance (Travel Addicts) hit the road in South Africa as well. They drove the Cape Point Route, a one-day journey from Cape Town that offers stunning views of Table Mountain National Park, a stop at the Cape of Good Hope, and the African penguins at Boulders Beach.


Driving The Middle East
Mansi (Street Trotter) spent some time exploring off-the-beaten path destinations in the United Arab Emirates. She visited Jebel Al Jais, the tallest mountain in the UAE, went camping in the Al-Ain Desert and cooled off at the Hatta Springs.

Driving Oceania
In search of beautiful landscapes and Australian culture, Jen (The Trusted Traveller) road tripped down Grand Pacific Drive a 90-mile stretch of connected highways that begins about an hour south of Sydney and meanders past turquoise beaches, seaside towns and rain forests. Nearby, Shraddda (Street Trotter) explored the Great Ocean Road, which hugs Australia's south coast. There she surfed, hiked a rainforest, observed indigenous wildlife, and visited gorgeous sites like the Twelve Apostles. While visiting the neighboring New Zealand, Jen (The Trusted Traveller) took two more scenic drives from Christchurch to Marlborough and through the Northland region.
Many thanks to this month's jetsetters for their great road trip ideas! Let's all spend a little time wanderlusting over those destinations just a car ride away. As Ralph Waldo Emerson once wrote, "Life is a journey, not a destination." Be sure to enjoy every mile of it!
---
To learn more about the monthly Jetsetter Roundups or to see previous posts, read our Jetsetter Roundups Overview